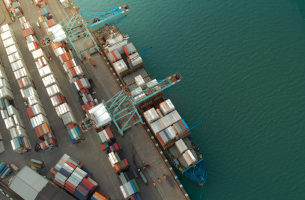 Gary Robinson
Jul 10, 2023
5 Benefits of a Specialist Recruitment Supply Chain Partner
Let's face it, finding the right talent for your organization is no easy task. The competition for top talent is fierce, and specialized knowledge in fields like technology is more demanding than ever.
Organizations can't succeed without a reliable and committed workforce. It is essential for recruitment agencies to have an open line of communication with their talent communities so that they can confidently promote opportunities to candidates who will be a good fit for the client's company, and that's exactly what a specialist recruitment partner does!
Specialist recruitment partners, in contrast to generalist agencies, are experts in a certain field. Specialist teams have in-depth familiarity with their specialisms in which they operate and have built robust networks to locate and approach the best and brightest professionals. For example, at Cast USA, we spend all of our time talking to professionals in supply chain functions, so we have an in-depth understanding of the daily challenges and typical long-term goals.
Supply Chain Management Expertise and Support
As a specialist recruitment agency focusing on supply chain professionals, we know our expertise is valuable due to all of the supply chain complexities involved. Supply chain management recruitment requires knowledge of multiple business sectors, with different industries (for exaple retail, automotive or logistics) having very different requirements.
The deep and specific knowledge that specialist supply chain recruitment agencies have takes a long time to learn, and generalist recruitment agencies simply won't have enough knowledge of 'what looks good' when it comes to finding the right talent.
Utilizing a specialist recruitment agency in supply chain allows you to access ongoing advisory support, drawing upon a partner's industry knowledge and experience to help achieve your talent acquisition plans. Recruiting day in day out means we speak to many different people constantly and are well-placed to offer advice on current market rates, key trends and developments within the industry.
Target the Best Talent
A specialist recruitment agency can quickly sort through the mass of resumes identifying candidates that stand out from the crown. It can be easy to forget exactly how much focus such a task requires, which can be a time consuming distraction, especially for operations managers. However, for a specialist recruitment agency, such tasks ARE their business. It is literally what they do, and they are the best at it.
Specialist recruitment agencies can help with talent pipelining, salary benchmarking and meeting diversity guidelines, as well as pre-sceening candidates and undertaking reference checks plus any pyschometric or personality testing requirements. They can conduct telephone and video interviews on behalf of clients, as well as face-to-face interviews for both the first and second stages as required.
A good supply chain recruitment agency will also provide timely feedback and communication to keep candidates engaged and informed, and can even negotiate an offer on the client's behalf.
Active and Passive Supply Chain Talent
Generalist agencies will have access to active talent, as in those actively seeking employment or a change of jobs. However, the active candidates who really know what they're doing will be seeking out new opportunities via a recruitment agency who understands their skill set and the roles they perform.
Where specialist recruiters excel is in passive talent, these are professionals that may not be actively seeking a new position. Despite not actively seeking a change, some of these passive supply chain talents would indeed consider a change should an interesting opportunity arise.
Secure the Best Supply Chain Talent
If you manage to secure the most in-demand talent, then an agency specializing in supply chain management will help you stay a step ahead of your competitors. An expert recruitment agency will make sure you don't miss out on any of the high-quality people that can really help your business thrive.
The fact is that most of the very best candidates are not on the market for long, if at all (in the case of passive candidates). Their skills are valuable and they know that a specialist recruitment agency has the networks to find them their next career opportunity quickly.
Simplified and Streamlined Recruitment Process
A specialist recruitment agency should provide a streamlined process, saving valuable time and resources. With their specialist knowledge, they understand your requirements and challenges, enabling them to craft compelling job descriptions that attract the right candidates, taking care of the entire hiring process, from start to finish. By presenting a shortlist of pre-qualified individuals, this eliminates the need for you to sift through unsuitable applications. This allows you to focus solely on evaluating and selecting the best-fit candidates for your organization.
With a simplified and efficient recruitment process, you can make timely hiring decisions, reducing the risk of delays and securing top talent swiftly.
Looking to benefit from a specialist supply chain recruitment partner? Find the talent you need with Cast USA, where we use innovative, tailored solutions to find your supply chain talent.